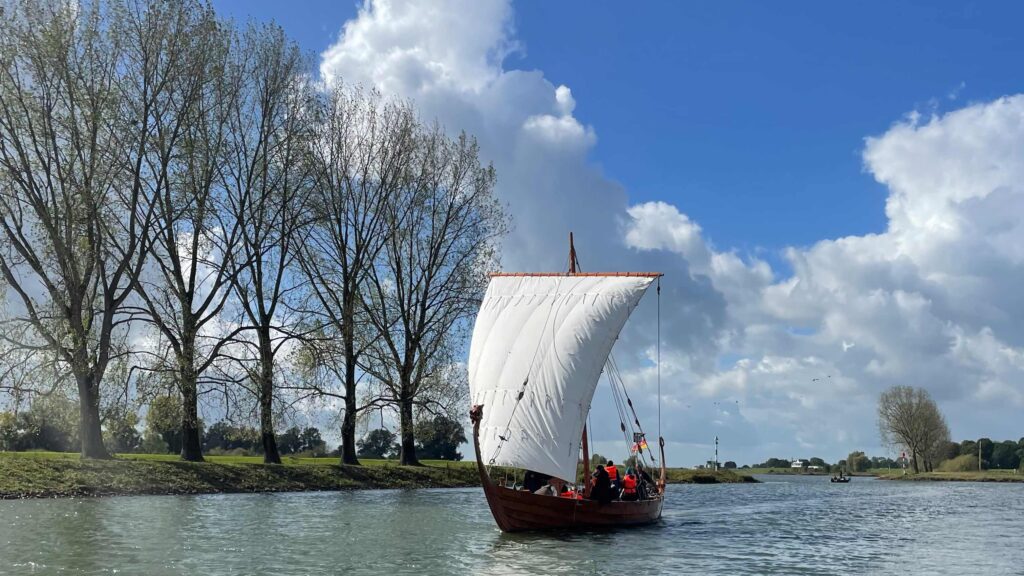 Afhankelijk van de windrichting wordt bepaald welke kant er opgevaren wordt. Gezien het karakter van de rivier is het onoverkomelijk dat er een gedeelte op de motor gevaren wordt. Wel is het mogelijk dat als er voldoende geoefende roeiers aan boord zijn, de motor niet gestart hoeft te worden. Er kunnen tussen de 8 en 10 passagiers mee, maar de aard van de groep bepaalt of er een bemanning van 4 of 6 zeilers nodig is. Passagiers (eventueel met zeilervaring) kunnen meehelpen met het vaar- en zeilklaar maken van het Vikingschip. Als het zeil eenmaal staat, is het verrassend om te ervaren hoe rustig het Vikingschip over de rivier vaart.
Een zeiltocht is niet lang vooruit te plannen. Vijf dagen vooraf wordt op de website www.vikingschipdorestat.nl en op facebook een geplande zeiltocht bekend gemaakt. Vanaf dat moment is het mogelijk om in te schrijven als passagier op deze zeilvaart. Afhankelijk van de weersverwachting wordt twee dagen van te voren de zeiltocht vastgesteld of geschrapt. De planning of de zeiltocht al dan niet doorgaat, zal op dezelfde wijze verlopen.
Als groep kan deze zeiltocht ook geboekt worden. Vul hiervoor het aanvraagformulier in, dan wordt er in onderling overleg afgestemd wat de mogelijkheden zijn of koop een ticket als opstapper voor een geplande zeiltocht.
Naar Tickets opstapvaart
Duur/ticketprijs
Tijdsduur van de zeilvaart ongeveer 1 ½   tot 2 uur
Ticketprijs; € 25,= per persoon
AANVRAAG GROEPSVAART