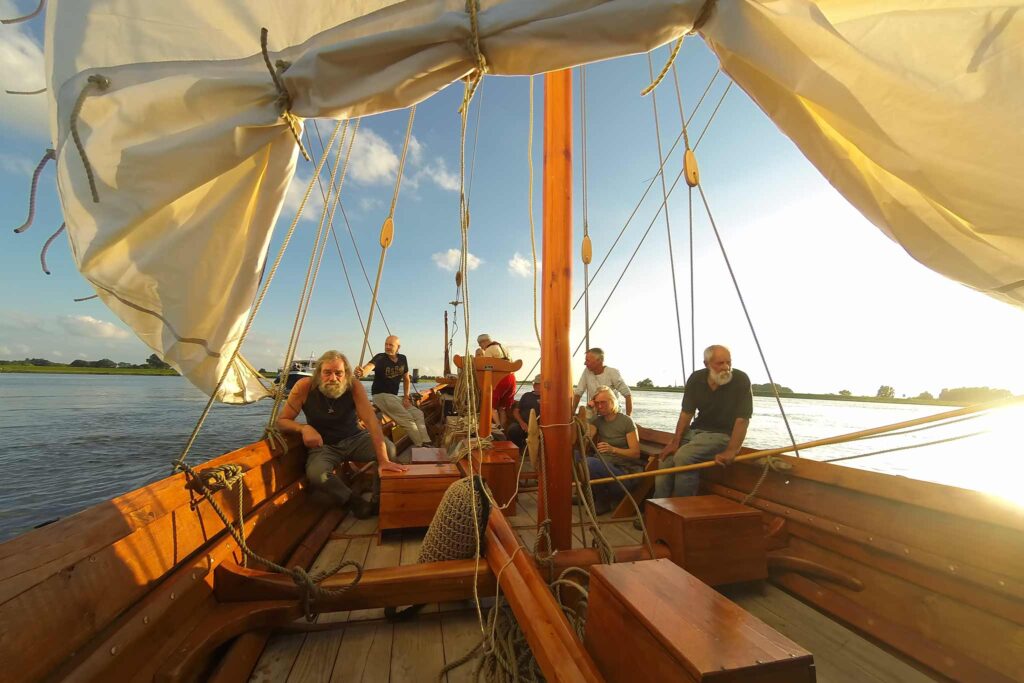 Afhankelijk van de windrichting wordt bepaald welke kant we opvaren. Gezien het karakter van de rivier, ontkomen we er niet aan, een deel op de motor te varen. Zijn er voldoende geoefende roeiers aan boord, dan kan de motor uitblijven. We kunnen 8 – 10 gasten meenemen. De aard van de groep bepaald of er een bemanning van 4 of 6 zeilers nodig is. Gasten (eventueel met zeilervaring) kunnen meehelpen bij de werkzaamheden. Als het zeil eenmaal staat, zult u verrast worden door de rust waarmee we over de rivier varen.
Het tarief voor een zeiltocht is € 25,- p.p.
Een zeiltocht is niet lang vooruit te plannen. Vijf dagen vooraf wordt op de eigen website en op Facebook een geplande tocht bekend gemaakt. Dan kunt u inschrijven. Afhankelijk van het weersverloop, wordt twee dagen van te voren de tocht vastgesteld of geschrapt.
Bij een groepstocht zal de planning in overleg op dezelfde wijze verlopen.